Introducing Bayside Basket Company™ freshly and beautifully arranged gift baskets that are packed full of the absolute freshest and finest products from our market. Choose from a variety of Basket styles; Italian, Fresh Fruit, Gourmet Variety, Fruit & Nut, and even our special Office Gift Baskets to impress your co-workers. We can even make custom baskets from scratch using the finest products from our store.
Taste a piece of Italy with this beautifuly arranged Gift Basket. From imported Italian Pasta and Gourmet Sauces to Extra Virgin Olive Oil and Ages Balsamic Vinegar, this basket has it all. Also includes a variety of imported Cheeses.Buon Appetito
STANDARD $100, DELUXE (SHOWN) $150
Impress even a food connoisseur with this Delightful Basket. This gift offers an abundance of gourmet food items including Imported Crackers, Dried Fruit and Nuts, Extra Virgin Olive Oil, Biscotti, and Imported Cheese as well as the Finest Fresh Fruit in town.
STANDARD $100, DELUXE (SHOWN) $150
Arranged in open Handled Baskets that display the Season's Finest Fresh Fruits. Our Fruit Baskets show Mother Nature at her very best.
STANDARD $75, DELUXE (SHOWN) $125
Just like our All Fruit Basket, this Gift includes the Finest Fresh Fruit and complements them with Imported Cheeses and Dried Nuts. Grant Three Wishes with this single gift.
STANDARD $85, DELUXE (SHOWN) $135
This gift Basket is sure to please everyone in the office. It includes Health Conscious selections like Soy Chips, Fat Free Biscotti and Sugar Free Cookies as well as Imported Crackers, Jams, Herbal Teas and Dried Nuts. A necessity in every office.
STANDARD $75, DELUXE (SHOWN) $125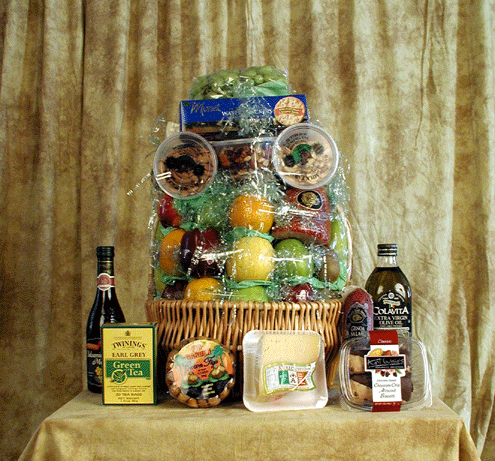 When you want to make a lasting impression, this is the gift to send. A Tremendous, Basket filled with everything you can imagine including Imported Cheeses, Oils, Vinegar and Crackers, Dried Fruit and Nuts, Gourmet Food Items and the Finest Fresh Fruit.
STANDARD $125, DELUXE (SHOWN) $200
Please reload
What Our
Customers are
Saying
Not only are the fruits and vegetables extremely fresh all of the time, they have a great selection of organic dairy and poultry. The staff is always very friendly and helpful, and make you feel like you are part of the family! So while some of the items are a little more pricey than your average supermarket, the selection and staff make it worth every penny.‎
-Rachel